The towers and board racks from MasterCraft are the ideal combination of form and function, offering power, safety, and style. MasterCraft offers you the most customizable towers in the business with more options than ever, including the option to colour-match with your boat and windscreen. A single person can effortlessly lower and raise every MasterCraft tower, with the exception of ProStar, and they all seamlessly integrate the bimini shade.
Z6
Except for the ProStar, all models of the Z6 tower come standard with Essential clamping board racks. The Z6 tower on NXT models is pre-equipped with black legs, silver tubes, and either black or silver Essential clamping board racks. The Z6 tower on XT models is available with silver or black Supreme or Essential board racks in addition to standard silver legs and tubes.
Z8
The XT, X, and XStar families all offer the Z8 tower as an upgrade option. There are options for black, titanium, or silver tubes and black, silver, or silver Essential or Supreme board racks. The Z8 tower is the easiest manual tower to operate on the market thanks to its patent-pending Hydro-Lock technology.
Z10
The XT, X, and XStar families can choose to upgrade to the Z10 automatic power tower. The tower legs, tubes, and Essential or Supreme board racks can all be ordered in silver, titanium, or black. Manoeuvring your tower is now even simpler thanks to the Z10 tower's ability to be raised and lowered with the simple push of a button.
Board Storage
With each model capable of holding up to 10 boards, MasterCraft offers the most board storage in the industry.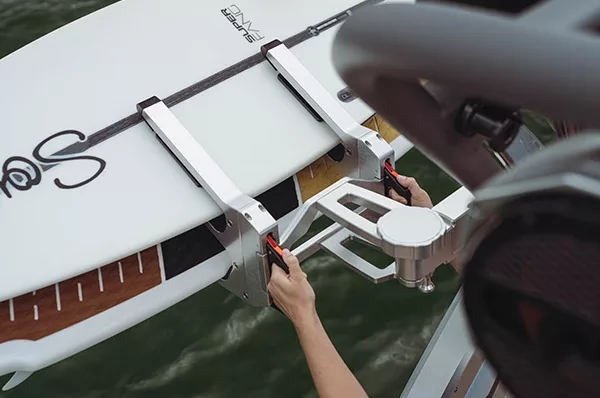 CLAMPING BOARD RACKS
Leave the old-school bungee cords at home; we've got you covered. 
The Essential clamping board racks from MasterCraft are now included as standard equipment on every tower! 
For more serious adventurers, each Essential clamping board rack has the option to upgrade to the Supreme clamping board racks to accommodate thicker boards.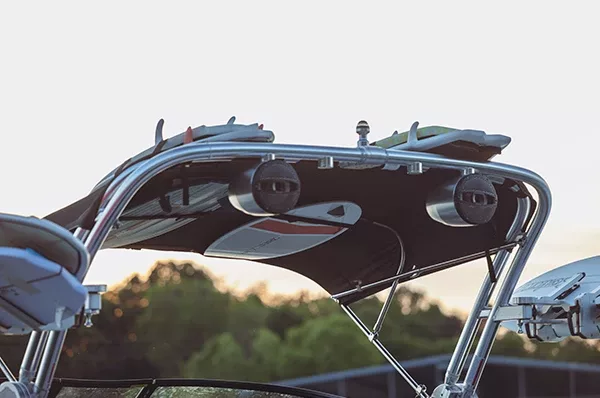 BIMINI BOARD STORAGE
All of our MasterCraft boats come with redesigned biminis equipped with discreet surf sleeves. 
The surf sleeves are seamlessly integrated and easy to use, so you can load up your boat for the day with no issues. 
Each bimini holds up to six boards, just in case you decide to bring some more friends with you out on the water. 
Towers and Board Storage in Action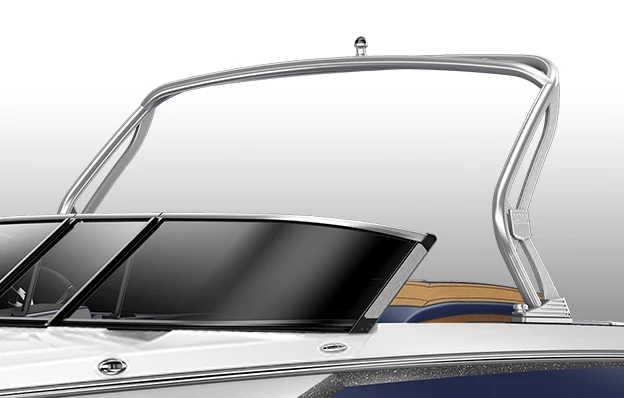 Prostar Tower
Invest in an optional tower upgrade to elevate your activities behind the ProStar. This upgrade is only available in silver. 
The MasterCraft bimini and optional ProStar tower can work seamlessly together to both store and use your wakeboard or surfboard. We'd heavily recommend getting both for the best experience possible on the water.
Explore More
Learn more about the top-quality components, space, and sound that make MasterCraft towers the best in the business.