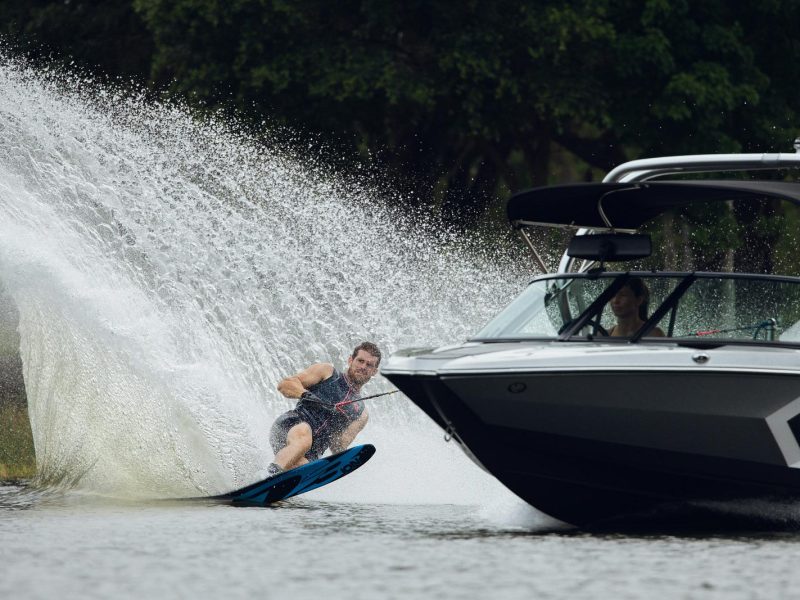 THE PROSTAR YOU KNOW AND LOVE
The ProStar you've come to know and love is back and better than ever with a flawless redesign. Combining its beloved legacy features with a slew of new upgrades, the ProStar continues to dazzle in not just style and performance, but also relaxation.
With endless comfort and utility features, look no further for the ultimate enjoyment vessel. Whether you're looking for world class ski boat performance or keen to kick back and cruise with the family, the ProStar is ready to deliver.
Our main showroom in Carnforth is a stone's throw from the stunning vistas of the Lake District, so we're ideally located to get you on the waters of Lake Windermere and beyond in no time. We offer top quality service nationwide to areas including Scotland, Abersoch in North Wales and South Coast areas like Southampton and Poole if you're further afield.
WHICH PROSTAR IS RIGHT FOR YOU?
FEATURES OF THE PROSTAR
Flawless pulls, elevated styling and the MasterCraft legacy—that's the ProStar way. As always, this world class ski boat calls upon its performance roots with features for enhanced handling, the flattest wakes, and timeless ProStar lines. Redesigned in 2021, the ProStar continues its legacy as the ultimate waterski machine for the driver, crew and skier.
TOTAL DECK UPGRADE
We've kept all the ProStar features you love and made them better. Our improved construction process means a total deck redesign, making the engine more efficient to give a smoother ride. Whether you're relaxing on board or skiing behind, smiles are guaranteed.
IMPROVED PERFORMANCE
The tub deck design paired with a redesigned motorbox means a better airflow for improved engine performance, as well as reduced noise when you're on board. Spend quality time with your family without interruption on your new ProStar.
BEAUTIFUL FUNCTIONALITY
With its new bow seating, functionality has never been more comfortable. MasterCraft is the only manufacturer to offer a removable bow lid to convert from closed to open bow. Extremely easy to remove and clean, ultimate comfort is at your fingertips.
EXPLORE OTHER FAMILIES
With 13 models spanning across an extensive lineup, we have the perfect fit for every family and rider. As the main MasterCraft supplier in the UK since 2007, we're here to help you find your perfect match. Explore our other MasterCraft families, visit us at our Carnforth branch, or contact us for more information.